At the Summer NAMM 2005 Audio-Technica have unveiled the new ATH-T44 and ATH-T22 Dynamic Stereo Headphones. Both the ATH-T44 and T22 feature A-T innovative self-adjusting lightweight headband and generously padded ear cushions combine to offer long hours of comfortable listening.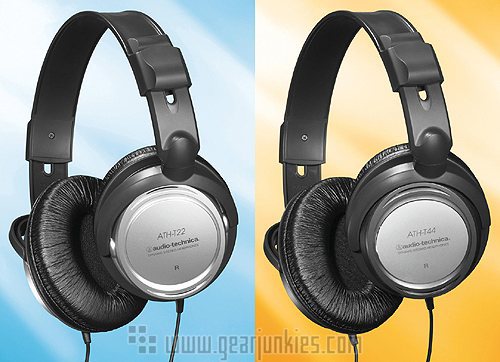 Audio-Technica's ATH-T44 Dynamic Stereo Headphones deliver remarkable acoustic performance with full, rich balanced bass. The headphones feature proprietary 40 mm drivers with neodymium magnet systems and Copper Clad Aluminum Wire (CCAW) voice coils for superior sound reproduction. With the ATH-T22 Dynamic Stereo Headphones, Audio-Technica has achieved outstanding sound quality and long-wearing listening comfort. These dynamic headphones offer a secure, comfortable ear-fitting design for long-wearing listening and sophisticated driver technology for sonic clarity.
The ATH-T44 headphones have a MSRP of $79.95 while the ATH-T22 have a MSRP of $59.95. Both models will be available in September 2005.