New from M-Audio is the Fast Track Pro mobile audio/MIDI interface for use with PC and Mac computers. The Fast Track Pro can be seen as the Big Brother of the Fast Track USB, adding even more professional features. Fast Track Pro is designed to let you record with professional results whenever and wherever you want. A single USB connection gives you access to all the I/O you need for microphones and instruments like guitars, as well as MIDI- and S/PDIF-equipped digital audio gear.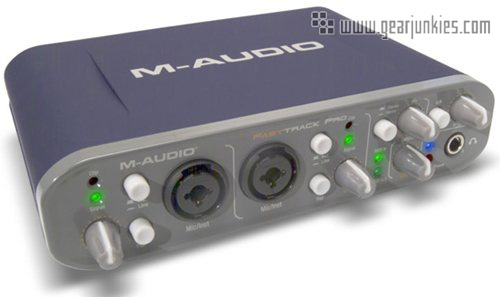 Fast Track Pro can be powered via its USB bus connection for mobile use. Alternately, it can derive power from the optional AC power supply for use with a hub or as a standalone DI box. The unit is compatible with WDM, ASIO 2, and Core Audio, making it work with most popular music software. It operates on both PC and Mac platforms, and is class-compliant on Mac OS X 10.3.9 or higher. (Class-compliancy supports 2 x 2 operation. Driver installation is required for additional I/O.)
Fast Track Pro also ships with Ableton Live Lite 4 real-time production software and GT Player Express virtual guitar rig software. The Fast Track Pro is expected to ship in August at an MSRP of $249.95.