Edirol Corporation today announced that it has updated its USB MIDI Interface line with three new feature rich designs, the UM-1EX, the UM-2EX and the UM-3EX. The updated designs further differentiate Edirol USB interfaces from other products in the market.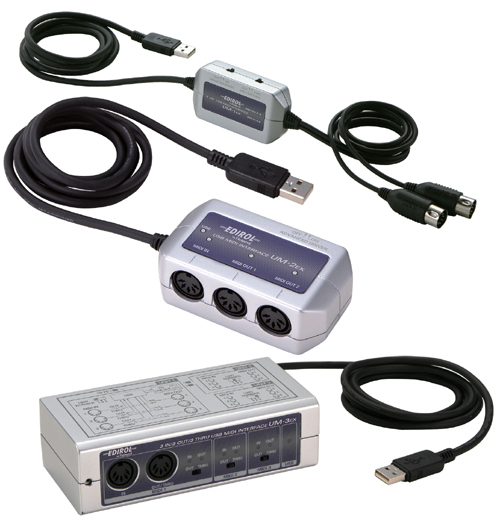 The most unique new model is the new UM-3EX 3-In/3-Out MIDI Interface that features a built-in USB hub that allows for the connection of two additional UM-3EX for a total of up to 9-In/9-Out. Three UM-3EX can be rack mounted on an optional Roland RAF-70 rack adaptor. Suggested Retail Price of the UM-3EX is $89.00
The UM-2EX replaces the Edirol UM-1SX and adds an additional MIDI out port for a new 1-In/2-Out configuration at the same low Suggested Retail Price of $49.00
The new UM-1EX replaces the Edirol UM-1X and adds a new MIDI Thru switch that allows the UM-1EX to be used as a standalone MIDI cable or route MIDI back to an instrument or other external MIDI device. Suggested Retail Price of the UM-1EX is $49.00.
All three new interfaces will be available in the fourth quarter of 2005.