Moog Music is proud to announce that the Etherwave Pro theremin has won the 2005 Excellence in Design Award from Appliance Design Magazine. This stunning instrument was selected for consideration based on its pleasing aesthetics and fine craftsmanship. The award, given in the leisure appliance category, was judged based on three factors; appearance, human factors and innovation.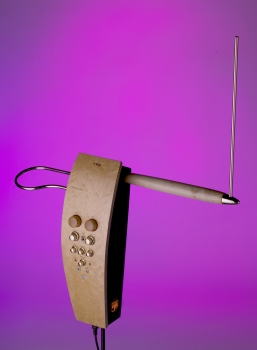 Three independent industrial designers judged the competition and noted that this year's entrants demonstrated excellence in material, form, purpose, and innovation.
"It's a nice juxtaposition of materials," said judge Chris Gilbert. "It looks lyrical. Plus, it can be configured to work for right or left handed users."
Moog Music Inc. designs and manufactures timeless electronic musical instruments, including the Etherwave Pro theremin, Moogerfooger® analog effects modules, the Minimoog® Voyager, and the Moog PianoBarTM. Founded by Robert Moog, inventor of the original Moog Synthesizer, Moog Music is located in Asheville, N.C.
Appliance Design Magazine is dedicated to providing solutions and showcasing innovation to appliance design engineers in all sectors. For additional information please visit appliancedesign.com.