Numark, the worlds leading manufacturer of DJ equipment, is pleased to announce the KMX01 DJ Station. Featuring dual CD+G drives with an integrated mixer, the KMX01 is the perfect all-in-one solution for DJs and clubs to instantly add Karaoke to their entertainment mix.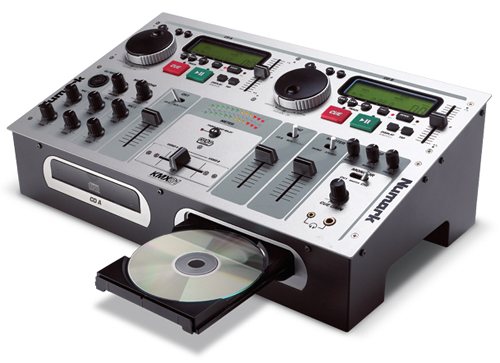 The new KMX01 makes it easy to incorporate visuals as part of the Karaoke fun. By incorporating dual CD+G drives, DJs can include their own image files and build stunning picture shows to accompany their music tracks (CD+G media required). A pair of composite video outputs are tied to a crossfader that automatically selects the output source, creating seamless transitions from one visual to another that facilitates easy presentation on two video monitors.
Featuring three microphone inputs with tone control capability, the KMX01 makes it a snap to keep the entertainment running smoothly. The DJ's microphone input is configured with an XLR/quarter-inch Combo connector that accepts a broad range of microphones. For the performers, there are two microphone inputs with quarter-inch connectors—making it easy to get one Karaoke performer ready while the current performer remains in the spotlight. In addition to tone controls for contouring the microphone's sound to one's liking, the KMX01 also provides echo effect control on the performer's microphone inputs for adding that extra element of professionalism to one's sound. For fine-tuning the overall performance mix, a master EQ section is also provided.
With a suggested retail price of $699 (euro 585), Numark's new KMX01 DJ Station is "the right tool for the job" when it comes to incorporating visuals and music into the Karaoke entertainment mix. The KMX01 will be available Q4 of 2005.
Next to the KMX01, Numark announces the CDMIX3 DJ Station. Designed expressly for mobile DJs and club owners in search of a compact, highly portable system that sets up and packs away on a moment's notice, the new CDMIX3 plays both standard CD audio and MP3 CDs, provides buffered Anti-Shock memory protection, delivers seamless looping, pitch control with a pitch bend wheel, balanced outputs, and a master EQ section among its wealth of features.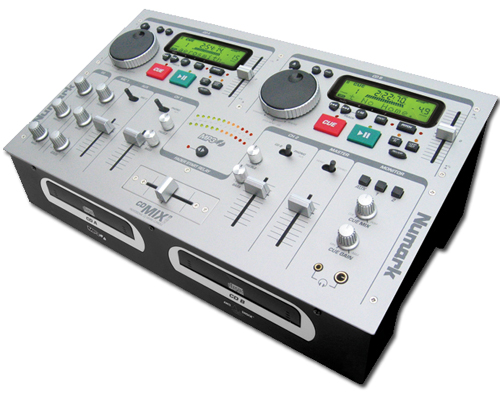 With the ability to play both standard audio CDs plus discs containing MP3 files, the new CDMIX3 provides outstanding versatility. With support for the MP3 media format, DJs can now fit substantially more music onto a single CD; dramatically reducing the volume/weight of the music library they transport and making their work easier. The CDMIX3 also features buffered Anti-Shock memory protection—so when the joint's jumpin', the music will play exactly as it should. And users will appreciate the ability to create seamless loops—for both CD audio and MP3 files as well as true buffered instant start and stutter start capability with settable stutter points.
The new CDMIX3 features an inviting user interface. Among its key attributes, this mixer features large, easy-to-read, backlit LCDs that include text display for identifying song names, BPM counters, and other pertinent information. This user-friendly mixer also provides ± 12% pitch bend capability via its pitch bend/jog wheel. For programming one's music sets, the CDMIX3 supports true continuous playback and is also track sequence programmable.
With a suggested retail price of $999 (euro 835), Numark's new CDMIX3 DJ Station is an exciting new tool for DJs who demand portability and MP3 file compatibility. The CDMIX3 will be available Q4 of 2005.