Sony is introducing two Hi-MD portable recorders at the Summer2005 NAMM convention. The new MZ-M100 and MZ-M10 MiniDisc-based field recorders are designed for musicians and broadcast professionals, and offer superb sound recording and playback capabilities combined with extensive storage capacity at a practical price.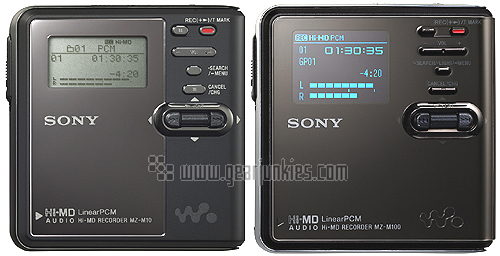 The new recorders, with removable 1GB MiniDiscs, allow up to 94 minutes of uncompressed recording time and as much as 34 hours in ATRAC3 plus™ format. The low cost of the Hi-MD media, which has a suggested list price of $7, allows users to archive their original recordings and makes data transfer extremely easy and inexpensive.
The recorders also feature a USB port for Macintosh® and Windows®/PC operating system connectivity to address a range of professional recording applications including music, interviews and field recording.
The Hi-MD MZ-M100 features a six-line large EL (Organic Electro-luminescence) display and the Hi-MD MZ-M10 has a large five-line LCD display. The new recorders also include:
* ECM-DS 70P stereo microphone
* MDR-EO931 ear bud headphones for improved field monitoring
* Recording capability from multiple sources: mic in jack, USB port for uploading material to MAC or Windows/PC
* Supports PCM linear (44.1 kHz, 16 bit), MP3/ATRAC3® / ATRAC3plus recording formats
* Extended-life rechargeable internal battery
The Hi-MD MZ-M100 and the Hi-MD MZ-M10 are both planned to be available in August at suggested list prices of $439.95 (euro 370) and $329.95 (euro 275), respectively.