INDEPENDENCE is the ultimate and innovative Sonic Workstation for sample libraries and closes the gap between Virtual Instruments and Samplers. From both these systems only the advantages were combined to an intuitively operatable software solution. Furthermore this powerful tool was extended with many professional and innovative features for highest musical demands and creativity.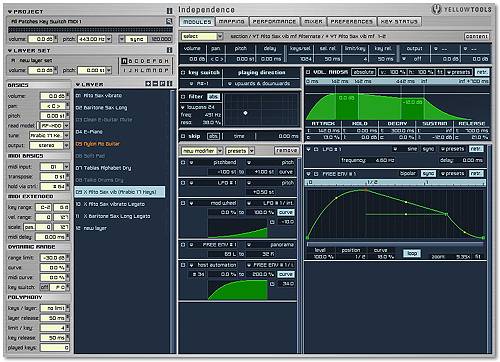 With yellow tools Independence you will be able to use, edit, customize and manipulate your instruments in one familiar environment. Any instrument specific settings can also get assigned to all other loaded instruments and any kind of customization is now possible as everything is available in the same software.
Independence comes with a vast 7 GB sound library which contains a "best-of" collection from awardwinning instruments from yellow tools products and also totally new content. With Independence we developed an amazing base for our premium sound libraries and offer only finest and best quality samples for the professional use of sample based instruments. Of course Independence is fully compatible to the yellow tools Modualr Virtual Instruments Candy, Culture and Majestic and we will also expand Independence continuously with more and more unique and fascinating sound libraries. Additionally you can import WAV and AIFF files (up to 32bit/192kHz) and the amazing Auto-Mapping Import feature lets you create your custom mappings in just a few seconds.

Release date is planned for august 2005. Price for the Independence BOX is 499,- €/US$, a Independence UPGRADE is priced at 149,- €/US$.