Gemini introduces the iKEY Portable USB Recorder, a revolutionary new
product that will change the way you transfer live music to your hard drive forever. The first of its kind anywhere in the world, this incredible new product is capable of capturing an audio signal, converting it to MP3 or WAV format, and writing it directly to a USB compatible storage device – all in real-time!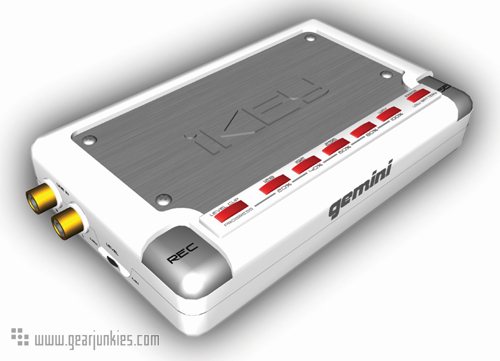 To use the iKEY, simply connect a cable from your headphone jack or any other output source to the RCA inputs, connect to a USB flash drive or mass storage device, select the desired digital audio format, and hit
record – it's that simple! The iKEY lets you choose whether the audio will be converted into MP3 format (with a choice of a 128, 160 and 256kbps bit rate) or the lossless WAV format. Never before has a portable device allowed you to do this without extra hardware and software.
"The iKEY is capable of so many applications – we think everyone is going to benefit from this product in some way," stated, Artie Cabasso, Gemini's Chief Executive Officer, "Its compact design and easy connectivity will make this product the ideal tool for the world to get audio to their computer and beyond."
The iKEY will allow the user to record live music, live speeches/seminars, radio, karaoke, transfer a vinyl collection to MP3, or record music to an MP3 Player hard drive – the possibilities are endless! With all the
iKEY's possible uses and a suggested retail price of $229.99, this product proves itself as the one-step solution to convert live audio to a convenient digtal audio format.