Moog announces a significant enhancement to the Voyager synthesizer line – Version 3.0 (V3.0). This enhancement requires an upgrade to both your Voyager hardware as well as the new V3.0 software.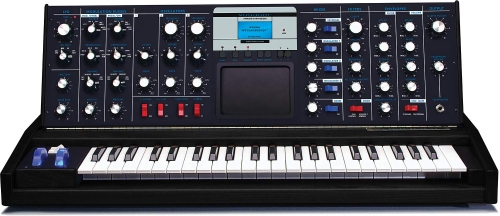 V3.0 extends the current single Bank of 128 Presets to 7 Banks of 128 Presets for a total of 896 user accessible presets. This upgrade is available for all Voyager Editions (Signature, Performer, Anniversary, Electric Blue, and Rack Mount).
Of the 896 user accessible presets, 704 come pre-loaded with patches from Nigel Hopkins, Brian Kehew, Will Alexander, Bernie Worrell, Drew Newmann, Amos Gaynes, Steve Dunnington, Aron Magner, Chad Hugo, Darrell Diaz, Frank Lucas, Fred Wreck, Gabrial McNair, Geoffrey Keezer, Herbie Hancock, Khari Simmons, James Lumb, Jamie Muhoberac, Joseph Rivers, Neil Palmer, Printz Board, Randy Cantor, Rick Wakeman, Mark Kline, Zon Vern Pyles, Thomas Wolf.
Additionally, V3.0 adds the following capability to the Voyager:
The External Mixer knob (just right of the display panel) has a dual function that allows you to rapidly change presets as opposed to continuously punching the cursor buttons.
MIDI Enhancements:
– Allows you to send either 7 or 14 bit resolution from the Control Wheels.
– Optionally reduces the amount of MIDI data being sent from the Touch Surface.
(These changes enable the Voyager to work better with older MIDI equipment.)
V3.0 is available immediately for USA customers as a return to Factory Upgrade for $325. (Customer pays shipping to and from Moog. Call for an RMA# prior to returning your Voyager to Moog.)
International customers: Please contact the listed dealer in your country for an upgrade price or wait until October 1 and we can ship the Field upgrade (see below) instructions to you.
Beginning October 1, 2005, we will also offer the upgrade as a Field Upgrade that you can perform. The cost of that upgrade will be $225.