Synful has recently updated its Orchestral VST plugin to version 2.2. Synful Orchestra instruments are Piccolo, Flute, Oboe, English Horn, Clarinet, Bass Clarinet, Bassoon, French Horn, Trumpet, Trombone, Tuba, Violin, Viola, Cello, Contrabass.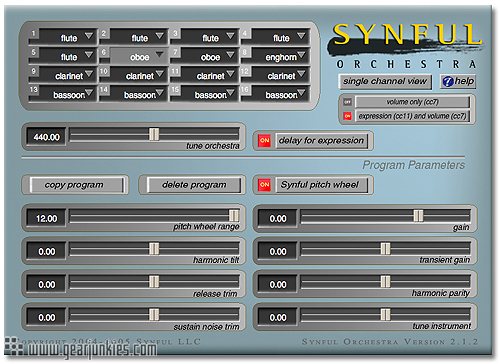 What is New in 2.2:
* Synful Orchestra now supports these sample rates: 11025, 22050, 44100, 48000, 88200, 96000, 176400, 192000. You do not need to do anything special in Synful Orchestra to select these sample rates. Just change the sample rate in your sequencer/DAW.
* Synful Orchestra Control Panel parameters are now mapped to MIDI continuous controllers for automation and interactive real-time control – see the new chapter in the help documentation for details.
* A bug was fixed which affected behavior of the Synful Pitch wheel mode. This bug resulted in erratic behavior that was difficult to control
* The Synful Pitch wheel is now more responsive to quick changes. This fix may require adjustment of pitch-bend curves in existing projects.
* A bug was fixed that sometimes affected proper legato or slur detection especially with Delay for Expression OFF.
* The Tune Orchestra slider control has been fixed. There was a bug causing the orchestra to go out of tune with itself when this slider was used.
* Synful Orchestra now supports Sassafras Keyserver license management system. This is for a separate multi-seat license version of Synful Orchestra.
A free DEMO is available at Synful website.