The Numark HDX is the worlds first and only tabletop HD/CD/MP3 player. With an ultrahigh torque motorized 12 inche platter, the HDX utilizes a real vinyl record for the ultimate vinyl feel. Now you can dramatically reduce the weight of the music you transport, and increase the volume and variety of your library.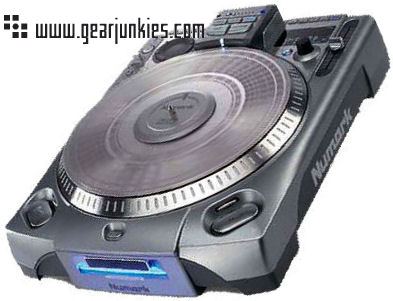 Styled after Numark's highly successful CDX player, the new HDX is the most advanced DJ media player available. Complete with an onboard hard drive, USB 2.0 ports, and an 8x CD reader, the HDX is the perfect tool for professional and aspiring performing DJs, mobile DJs, producers and club installers.
The HDX includes a removable 80 GB hard drive supporting MP3, WMA, and WAV media formats. The unit's enhanced search capabilities facilitate easy file location by artist, album, genre, track, plus BPM. With high-speed USB 2.0 connectivity, you now have full access to the hard drive for both Mac and PC, making updating of content easier than ever.