Behringer today announced the immediate availability of the TRUTH B2092A high performance active 360-watt studio subwoofer for mono, stereo and surround applications.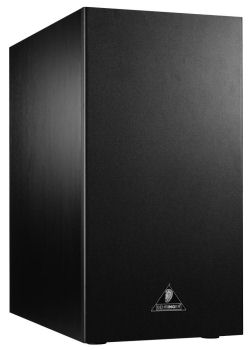 The B2092A active subwoofer uses a high-power 360-Watt amplifier to deliver extreme dynamics with linear bass reproduction all the way down to 32 Hz, and as such is an incredible low frequency enhancement for Behringer TRUTH studio monitors or any other professional monitoring system.
Two long-excursion 8″ loudspeakers with deformation-resistant aluminum die-cast chassis reduce distortion to an absolute minimum, even at the highest volume levels. The B2092A features dedicated Left, Right and Center XLR inputs and outputs for all stereo and surround applications.
An innovative band-pass filter enclosure design yields excellent dynamic response and linearity, while active crossovers at 80 Hz provide precise frequency band separation and minimal phase shift.
You also benefit from flexible adaptation to virtually all acoustic environments via Phase and Room Compensation controls. In short: Get wall-shattering low-end kick at a price that is unheard of!