Luxonix has announced to be released in october 2005, PURITY. It is the next generation of a digital musical instrument workstation and PCM sound module software. PURITY is designed to realize and surpass the hardware musical instrument workstation perfectly on computer based music production environments offering higher sound quality and more usability.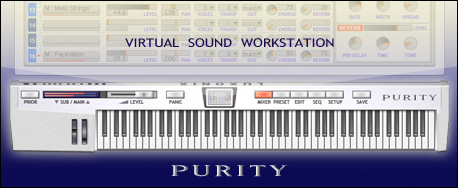 Purity is a "PCM sound module" (i.e. sample based) and includes the sounds of hardware workstations, sound modules, drum machines, vintage analog synths and digital synths. PURITY will come with over 1000 ready-to-use sound presets and features an integrated sequencer.
Key Features:
* GM (General MIDI) Compatible.
* 16-part Multi-instrument.
* Integrated Pattern Sequencer.
* Super-fast Preset Browser.
* Over 1000 Factory Sound Presets.
* Integrated Mixer.
* 2 Stereo Send-Return Effect Buses – Chorus/Reverb.
* 24 types of Insert Effect.
More details can be found on our Purity product page (link below). Price is yet to be announced.