Manytone has announced the launch of ManyGuitar, a guitar and bass sample based synthesizer with a library of over 1 gigabyte of 24-bit samples. The ManyGuitar sound library includes a wide range of guitars and basses. Each instrument has been multi sampled, often at several velocities and with a mute layer included. In addition to the single note samples, there are some chord sets and also some lead guitar styles.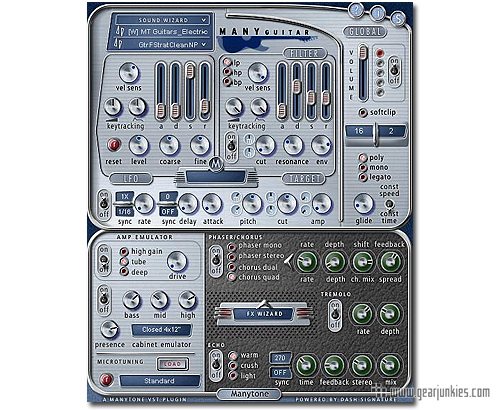 This sound library has then been coupled with an efficient sample playback engine (based on the Eve One engine from Dash Signature) with a custom amplifier and speaker cabinet emulator and an FX rack designed exclusively for ManyGuitar. The amp section also includes a deep amp mode that is suited to bass and other low toned guitars.
ManyGuitar will also load soundsets in both Wusik wusikSND and Dash Signature dashSND format. As well as having of the huge libraries that are already available for WusikStation from Wusik and EVE from Dash Signature available, all of the existing ManyStation soundsets (including all the add ons for ManyStation such as the recently released Ultimate Bass Kit) can be loaded into ManyGuitar to take advantage of the amplifier/cabinet treatments as well as the well FX rack.
ManyGuitar will be available in PC VSTi format on 24 October 2005 for $89.99 (download) or $104.99 (CD/DVD). Owners of Manytone's ManyStation may purchase ManyGuitar until the end of 2005 at the discounted price of $49.99.