Revolver is a high-powered convolution reverb that drives like no other, providing total impulse response sculpt-ability, dedicated and routable EQ, two syncable delay lines, and specialized stereo imaging for unprecedented control. With literally hundreds of sounds from rare holy grail out of production reverbs and acoustic spaces, Revolver provides the most compelling impulse library to date. Also included is a complete tool set to shoot your own rooms and gear. Any acoustic space, outboard gear, or signal path can be modeled in a few minutes with Revolver and the Revolver analysis tools.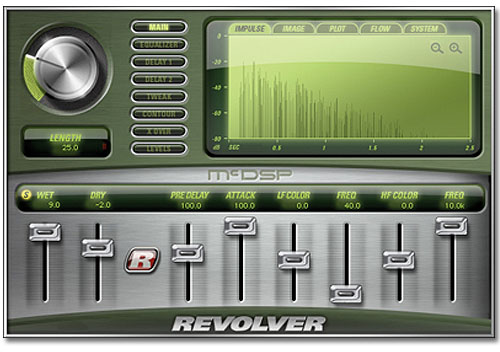 The Revolver plug-In uses convolution to extract and replicate acoustic spaces and other equipment exactly. It combines this extraordinary processing power with the flexibility only found in ultra high end outboard reverbs.
Revolver has two bands of dedicated shelving EQ and three additional bands of routable EQ. It's routing system has eighteen different possible EQ insert combinations, and two programmable delay lines with five different possible insert combinations. The delay lines are each 3 seconds long and can be panned and synced to MIDI beat clock independently for a variety of tempo-based effects. Additionally, all parameter adjustments are heard immediately, and the outputs are not muted during any control updates.
Project Studio is the most comprehensive RTAS bundle ever, featuring award winning EQ and compression, virtual synthesis, guitar amplification, and McDSP's new convolution reverb. Everything you need to create, mix, and master.
Project Studio includes:
– Revolver LE – The all new high-powered convolution reverb, which provides one of the most compelling impulse libraries to date.
– FilterBank LE – Includes E4, P4, and F1 FilterBank configurations made up of powerful variable Q parametric and shelving EQ as well as resonant peak filters.
– CompressorBank LE – The CompressorBank CB4 configuration with emulations of the LA-2A, dbx 165, Fairchild 670, UREI 1176, Neve 33609 and more (*).
– Chrome Tone LE – The Chrome Tone Amp configuration with gating, distortion, compression, EQ, pre amp modeling, a cabinet simulator and spring/room reverb.
– Synthesizer One LE – All of the sound quality of the original in a straightforward interface. Controls are provided for the most often adjusted parameters, and presets from top programmers are included.
Project Studio also contains a pre-programmed McDSP Green iLok. The McDSP Project Studio is ready to plug and play right out of the box.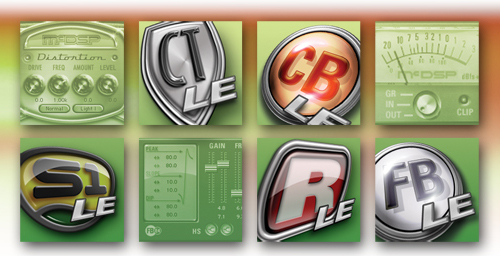 Users who already own two or more of the five plug-Ins included in Project Studio can upgrade to the remaining products for $195 (USD). This upgrade program will be administered through McDSP directly.
Revolver is $495 (USD) RTAS/AudioSuite Mac Only. Revolver LE is only available in the McDSP Project Studio bundle. Expected Ship date November 2005.