LiveLab has released a new version of their LiveSlice plugin. This beat slicer can do much more than just slice your beats. You can load up to 64 wave files at a time, slice them up and combine the slices in the multitrack arranger. Each slice is coloured based on the content so you can easily tell them apart – this makes manual rearranging a lot easier. With up to 256 slice on each loop liveslice is as much a granular synthesizer as a beat slicer. As you can also sequence notes you can do simple melodic arrangements too (bases and arps).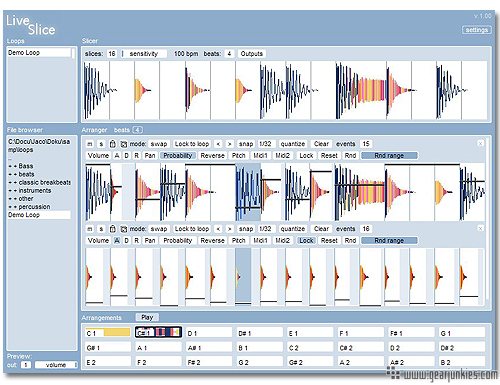 what's new in this version (1.02):
* Now imports ACIDized loop and slice info as well as standard .wav file markers. With option to import just the slices.
* Right click the reset parameters button to reset all parameters
* GUI tweaks
* Display is updated when the tempo is changed
* Fixed distorted sound on reopen
* Fixed freeze bug (Cubase / Live5)
* Other minor fixes
* Manual updated
For more information on LiveSlice and a free Demo, please visit the LiveLab website.