Mackie just released a new Tracktion 2 update: version 2.0.2.8. This latest update includes several great feature enhancements and bug fixes.
Tracktion is a revolutionary, easy-to-use music production application that contains everything most people will ever need to professionally record and mix music on a Mac or PC – without all the hassles and limitations of other audio software. Tracktions hallmark is a clean, single-screen interface and streamlined operation, whether you're recording tracks, MIDI programming, or mixing down songs. It offers rock-solid operation, VST and ReWire support, and very low CPU usage with operating systems ranging from Mac OSX to Windows 2000 and XP.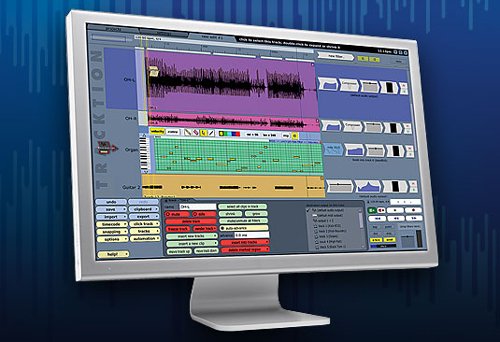 * International language support: Tracktion 2 can now display all elements of its program in French, German and Spanish in addition to English.
* New render track dialog: Choosing render track in the "export" function now opens a dialog window allowing detailed control over the sample rate, sample size, and file type of the render.
* New group soloing functionality: Soloing a source track fed to a group will also solo the group. Soloing a group now solos all tracks fed to that group.
* Custom naming ability to audio outputs: Users can now add custom alias names for their hardware outputs, not just inputs — particularly useful for Mac OS 10.4's "Aggregate device" function.
* Fixed issue on Mac with Waves plug-ins crashing T2 during the plug-in scan.
* Fixed issue with Delete Marked region across all tracks inserting automation points.
* Fixed issue with MIDI data not working well with external MIDI hardware. This fixes complaints of doubled notes, dropped notes, or bad timing when sending MIDI to external MIDI hardware.
* And many more…
Registered Tracktion 2 owners can download the new software update by logging into your My.Mackie account and clicking on your Tracktion 2 license. Be sure to check out all the news in the Tracktion v2.0.2.8 Release Notes from there as well.