The Vestax CDR-07 is a full optional CD player for Dj use, but can be used in a studio as a CD recorder.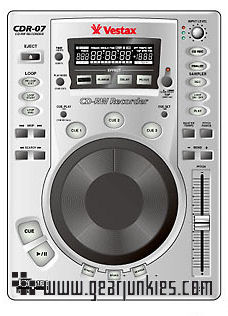 Some Features:
The CDR-07 has a sampling function. Sound recording is possible to maximum of 8 seconds. Its has 4 cue pionts, a digital BPM counter, digital FX, pitch control and independence key control (0, the ±6, 10 and 50, 100%), MP3 encoder of 320kbps, Digital out, TT Link and more.
Prices and shipping dates will be announced soon.