Veteran keyboardist Rags Tuttle has created an entirely new instrument that brings fresh methods of playing to musicians of all skill levels. His creation, the Musicpole MIDI Controller, wraps a standard keyboard around a visually striking acrylic pole, using the music theory of the circle of fifths to arrange the keys in a unique spiral pattern. Unlike a standard, flat keyboard, the spiral layout of the Musicpole puts all of the right notes for a given musical key directly in front of the player in a vertical row. To play in another key, the player rotates the entire Musicpole to another of the 12 keys labeled at the top of the pole.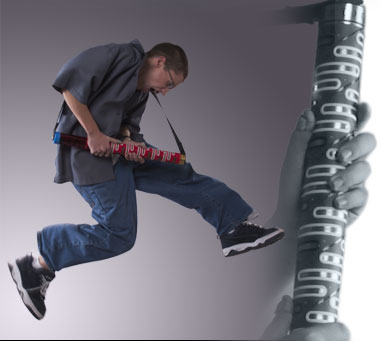 The Musicpole is an ideal teaching tool, since beginning players can instantly play along with their favorite songs by simply finding the correct key, and then playing the notes directly in front of them. In contrast to a standard keyboard, there's no need to learn different fingering patterns for each key.
But the Musicpole is much more than a classroom aid- it was designed as a serious instrument for gigging musicians. Experienced players love the Musicpole for its unique appearance as well as the freedom it gives them on stage. Made from acrylic, the Musicpole is lightweight, easy to transport, and a real attention-getter on stage.
When connected to an external MIDI keyboard or sound module, the Musicpole can deliver any sound in the MIDI arsenal, making it extremely versatile in live situations. Musicpoles have been used in place of not just keyboards, but also electric basses, strings, and percussion. They've also been used in a variety of gigging situations, from nightclubs to casinos to musical theatre.
The Musicpole MIDI Controller spans three octaves and is polyphonic.
The price: $395 US dollars incl VAT.