Answering the call of remote recording engineers, the TASCAM HD-P2 Portable High-Definition Stereo Audio Recorder is the professional solution for challenging live and on-location applications.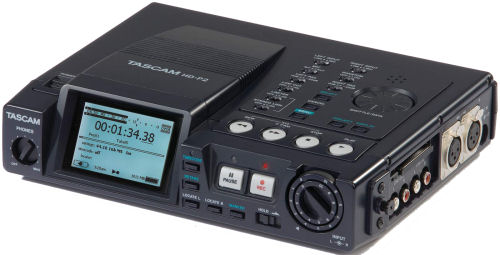 Co-developed with Frontier Design Group, it records at up to 192kHz/24-bit resolution to Compact Flash media, and its audio files are instantly available to DAWs through the built-in high-speed FireWire computer connection.
Unlike consumer MP3 sketchpads, the professional HD-P2 incorporates high-end features like a SMPTE timecode input for synchronization to external devices while in record or playback. The user interface is designed for fast and intuitive use under stressful one-take-only situations, and its large, angled LCD is perfect for any application from over-the-shoulder location recording to concert recording and commercial use.
High-definition Recording, To Go
The HD-P2 records in stereo from 44.1kHz to 192kHz, at 16- or 24-bit, to affordable Compact Flash media. Not only is Compact Flash absolutely silent, so no transport noise will show up on your recording, but the recorded audio is written directly as Broadcast WAVE files for immediate use in digital audio workstations. The unit even includes a FireWire jack for the fastest possible transfer of files to your PC or Mac computer.
The professional design of the HD-P2 extends to convenient details that pro users will appreciate. The Retake button allows the user to delete the last recording and set up to re-record with a single button press.
As audio is recorded, the file headers are continually re-saved to protect your recording against accidental data loss. Files can be named from the front panel interface or using a PS/2 keyboard, which can also be used to control transport and setup features.
On the input side, the unit has a pair of XLR mic inputs with phantom power and analog peak limiting to curb distortion during unpredictable live events. The input level control allows the user to change the level without taking their eyes off the action. The HD-P2 also features unbalanced RCA ins and outs as well as S/PDIF digital I/O. Monitoring is available through a headphone out – again, with its own ergonomic level control – using a built-in speaker.
A built-in microphone is also provided for interviews and educational use.
Prices and shipping dates will be announced soon.