Universal Audio, a manufacturer of high-quality vintage audio hardware and DSP software plug-ins for digital audio workstations, today announced the simultaneous launch of two new single channel Mic preamplifers with Instrument DI. The SOLO/610 Classic Vacuum Tube Mic Pre and DI and the SOLO/110 Precision Class A Mic Pre and DI will bring UA quality to a totally new price segment.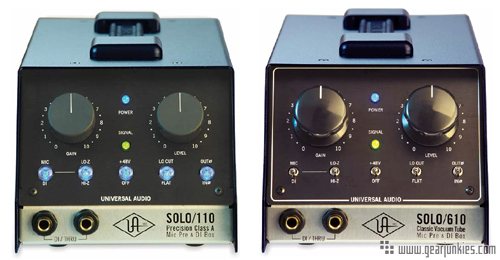 Unlike stationary rack gear, the SOLO series uses a highly versatile form factor and can be conveniently used in the control room or recording room, on stage or desktop, due to the portable design.
* Classic Putnam 610 or flagship Precision 110 Mic Pre and DI
* Portable design for studio, desktop or stage
* Gain, Level, and impedance selection for maximum tonal variety
* Convenient DI features-Mic or Line level output plus Thru
* UA build quality and heritage, hand-assembled in USA
Carefully crafted to maintain the sonic elements of their more expensive siblings like the 2-610/M610, 8110/4110, the SOLO series preamplifiers retain the component and sonic standards professionals expect, and combine the tonal variety of all Universal Audio products.
The Universal Audio SOLO 110/ SOLO 610 and DI will be available from Universal Audio dealers worldwide in volume in Q1 2006. Final pricing is TBA, but will be well under $1000.