The Controller1 is a turntable. Okay no news BUT: it can play notes…The 8 buttons around the platter correspond to notes in a scale and can be played in major or minor key. It can be controlled by a footpedal or on the deck. But theres more. It can also be controled by MIDI.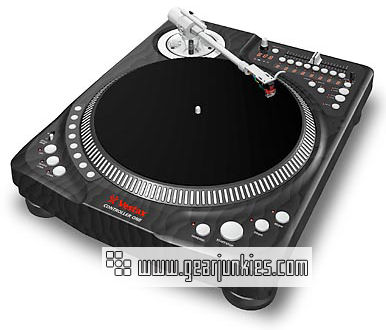 Features:
* The scale button which can adjust the pitch speed which is adjusted to the minor scale, instantaneously the fader of gradual type control pitch.
* With optional foot volume, also it is possible to do scale the pitch
* It equips fine tuning volume and must adjust to the piano on site adjustment is possible even with the scene.
* If it makes normal "PITCH" mode, the fader – it becomes stepless floor control pitch, maximum variable width it is possible to choose from the ±8 ±10 ±60.
* Loading the pitch LED display of 7 segments whose recognizing/admitting characteristic is high.
* As for motor in PDX series original AC direct drive type of established reputation.
* It equips also pitch bending, sharp of semitone width and changing the pitch speed of flat are possible.
* At the time of scale pitch mode, the musical interval which has really been output (the musical interval which with the ±0 is cut in the record) it is possible to adjust the indication of keynote.
* In each button, the scale the pitch functional attachment which memory can make pitch speed unrelated.
( sorry, is was all written in japanees so we used Babelfish )
Price and shipping date will be announces soon.