Digidesign is excited to announce that Pro Tools 7 software is now shipping for Pro Tools|HD and Pro Tools LE systems, and Pro Tools 7 M-Powered will follow soon. These highly anticipated updates deliver a wealth of new features and enhancements such as significantly expanded recording and editing capabilities for audio and MIDI, greater mixing power and flexibility, enhanced efficiency, and improved ease of use. The result is a whole new set of tools that advances the art of audio production.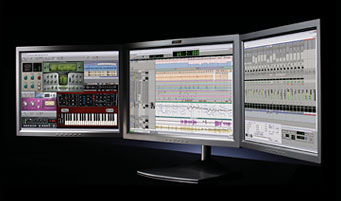 Pro Tools 7 software is also a cross-platform release, supporting all current Pro Tools systems running on Windows XP and Mac OS X Tiger computers. Customers can choose to purchase a Standard Upgrade or the special Pro Tools 7 Software Upgrade PLUS option for Pro Tools HD 7 and Pro Tools LE 7 systems. Available online or through a local Authorized Digidesign Reseller until December 20, 2005, Upgrade PLUS options offer the Pro Tools 7 software upgrade plus a choice of two powerful plug-ins, all at an outstanding value.
Anyone who purchased a new Pro Tools|HD or Pro Tools LE system, or an upgrade to Pro Tools TDM 6.9.x or Pro Tools LE 6.9x software, from an authorized dealer on or after September 1, 2005, is automatically eligible for a free upgrade to the corresponding version of Pro Tools 7 software (i.e., Pro Tools HD 7 software or Pro Tools LE 7 software). Pro Tools M-Powered customers will be contacted directly with upgrade information.