Digidesign is pleased to announce the availability of Dynamics III, a free download and an exciting new addition to the free collection of DigiRack plug-ins included with all Digidesign Pro Tools and Avid picture systems. The Dynamics III plug-in suite includes a Compressor/Limiter, Expander/Gate, and De-Esser, each in an easy-to-use interface. Dynamics III offers simple ways to apply dynamics processing in mono, stereo, or a full range of surround formats.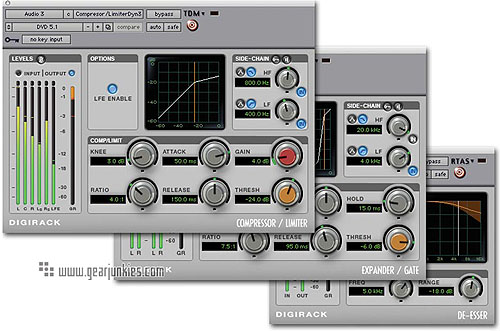 Dynamics III provides control over every aspect of dynamic levels, from attack, release, threshold, and ratio to the "knee" of the Compressor/Limiter. Users can eliminate unwanted background noise or produce creative new effects by fine-tuning the ratio, attack, hold, release, and range of the Expander/Gate, or home in on and reduce sibilants with the frequency and range controls of the floating threshold De-Esser. Look-ahead functionality and fully automatable controls deliver smooth, de-zippered output. Dynamics III also offers exceptional performance, running efficiently on host and DSP systems.
For direct, hands-on control of functions, Dynamics III integrates easily with a wide range of Digidesign and third-party control surfaces and consoles. Dynamics III can also be used on the road with direct control through the center section of the VENUE D-Show™ console, or as an essential feature of an ICON integrated console environment by controlling these plug-ins directly from the dynamics panel in the center section of a D-Control™ or D-Command™ worksurface.
With a comprehensive set of features, an easy-to-use interface, and capabilities for hands-on operation, Dynamics III provides all the tools needed for total control of dynamics.
Dynamics III Features at a Glance:
* Three dynamics processing plug-ins: Compressor/Limiter, Expander/Gate, and De-Esser
* Multi-channel support*
* Optimized for maximum CPU and DSP efficiency
* Tight integration with control surfaces and VENUE live sound environment
* Support for Avid software
* High-resolution processing, up to 192 kHz
* External key and side-chain frequency filter capabilities
* De-zippered, automatable controls for smooth parameter changes
* RTAS®, TDM, and AudioSuite™ formats
* Windows XP and Mac OS X support
*The De-Esser is mono/stereo only.
For more information or to download Dynamics III, visit Digidesign's website.