Korg has announced OASYS software version 1.10, which includes the first OASYS Expansion Instrument (EXi) update, the STR-1 Plucked String. The STR-1 represents an advancement in physical modeling, building on over a decade of Korgs research with new innovations exclusive to OASYS. This new OS also adds support for up to 2 GB of memory, as well as some new enhancements to the OASYS voice architecture.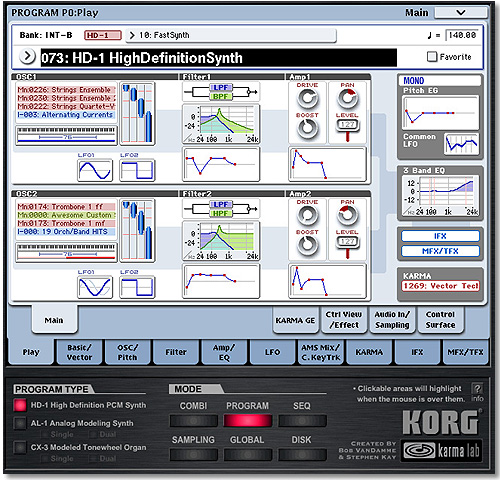 New EXi
The STR-1 Plucked String is a physical model which allows you to pluck, strike, scrape or otherwise "excite" the string with 16 different "pluck" types, noise, or any of the onboard or RAM-based PCM waveforms.
This comprehensive set of synthesis tools makes the STR-1 capable of creating both traditional sounds (acoustic and electric guitars and basses, clavinets and harpsichords, harps, bells, electric pianos, ethnic instruments, etc.) and unique, experimental timbres. Since it's based on physical modeling, sounds can expressively change their tone in ways that are impossible for sample-based sound generators to imitate.
New Voice Enhancements
OS Version 1.10 also offers some new additions to the OASYS. The most anticipated is support for up to 2 GB of memory. By adding a 1 GB DIMM memory module, users can keep both the EXs1 and EXs2 expansion libraries in memory at the same time, with room for almost 700 MB of samples still available. Alternatively, by not loading either EXs library, approximately 1.5 GB of sample RAM will be available for loading new sounds or creating their own custom samples.
The new EXi has a retail value of $299, but Korg is offering it free of charge to all current and future OASYS owners. OS Version 1.10 will be available in early December. For more information, visit their web site.