LiveLab has recently released an update for LiveSlice. This is a major update with tons of new features and important bugfixes. Two new banks of presets by The Outziders are included. The banks can be used both in the demo and full version. The 39.95 euro introduction offer is valid until 20 Nov.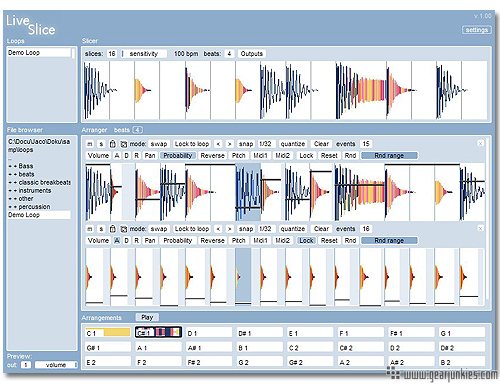 New features:
* horizontal zoom in slicer
* save slices and tempo info as acidized loop (saves directly in the wave file)
* mousewheel support in all hosts
* mousewheel can now be used on sliders and menus too
* grid in arranger – so you can find your way
* bpm detection and acid import improved
* faster audio import and improved coloring
* middle mouse support (works as CTRL+RMB, that is: delete)
* arranger workflow improvements
* octave numbering system is adapted to the host labeling convention
(the note C1 in Cubase is called C3 in Fruity loops and C0 in Tracktion1.6)
Bugfixes:
* deleted slices in first track was reinserted on reload.
* right click "clear button" bug fixed
* crash with loading some invalid wave-files fixed
* bug when opening the same .fxb bank multiple times fixed
* tracks were not being properly deleted – fixed
* manually inserted slices could not be triggered individually
* midi slice triggering bug fixed
* changing the size of the arranger was disabled
* other minor bugfixes
A free DEMO is available at the LiveLab.dk website.