Did Korg paint its Triton LE black or is this a new workstation? Anyway, we found these pictures on the internet what looks like a new Korg Workstation, The TR. TR is also the name of the Triton rack, so we dont know if TR is the real name of this new workstation.
We hope to give you more info soon!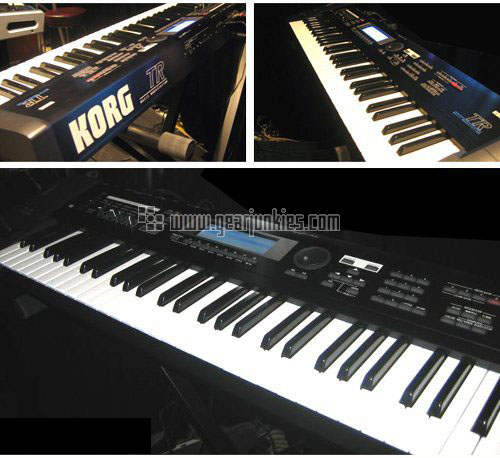 Update
Main Features:
# 64 MB PCM waveform memory is jammed with new sample data and programs, including new dynamic and spacious piano and acoustic instrument sounds.
# Template based 16-track 200,000 note sequencer, cue list construction, RPPR pattern sequencing and dual arpeggiators offer fast and easy song production.
# 512 Programs covering a broad range of sounds, 128 GM-compatible programs and nine drum programs, plus 384 Combinations.
# Offers limited compatibility with TRITON series sound data
# Add full-fledged sampler capabilities, including advanced functions such as Time Stretch/Compress and Time Slice with the optional EXB-SMPL sampling upgrade board.
# SD card storage is fast, low cost, reliable, and can backup and restore large quantities of data with ease.
# USB computer connection for smooth MIDI integration and data transfer.