The Dimension Pro 1.1 update provides new plug in and file format support and several new features. The update also addresses some minor issues discovered after Dimension Pro began shipping.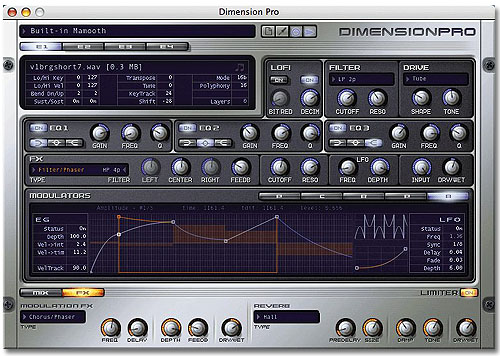 Improvements:
# RTAS Support — Dimension Pro now provides native plug-in support through RTAS for Pro Tools 7.0 and above (Mac) and 6.0 and above (Windows).
# x64-capable DXi format — Dimension Pro's updated DXi format runs natively in SONAR 5 on new Windows XP x64 Edition and Intel and AMD x64 chipsets. In addition to increased processing performance under x64, a primary benefit to Dimension Pro's x64 implementation is the access of up to 128 GB of RAM which will allow for more simultaneous instances of Dimension Pro running larger sampler banks.
# REX support — Dimension Pro can now load REX format loops, as well as .sfz format grooves files in any element, in addition to the standard .sfz multisample format.
# Microtuning and Alternate tuning with Scala file support — Dimension Pro can now load native Scala .scl microtuning files. Scala is a powerful freeware software tool for experimentation with musical tunings, such as just intonation scales, equal and historical temperaments, microtonal and macrotonal scales, and non-Western scales. Dimension Pro allows each element in a program to use a specific microtuning definition, so multiple microtuning sets can be used in a single patch.
# MIDI Learn — Adding to Dimension Pro's advanced MIDI control customization features, users can now assign any knob on screen to any MIDI controller event, including Aftertouch and Pitch Bend. In addition, multiple controllers can be assigned to a single parameter or vice-versa.
# Master FX — New reverb algorithms have been added to the Master FX section providing seven reverb modes on output: Small Room, Mid Room, Large Room, Small Hall, Mid Hall, Large Hall and Chamber.
# Insert FX — The new reverb modes have also been added to the Insert FX section. Additionally, a distortion algorithm has been added, letting you warm or degrade your sounds with gritty and screaming textures.
# Copy/Paste Element FX — Dimension Pro now allows you to copy/paste Insert FX settings between Elements.
The Dimension Pro 1.1 Update will be available in the first quarter of 2006. For more information please visit the Cakewalk website.