TC-Helicon, inventors of VoicePro and many other respected vocal processors employing cutting-edge harmony technology, announced today the Harmony4 plug-in for Pro Tools|HD and TCs PowerCore platform.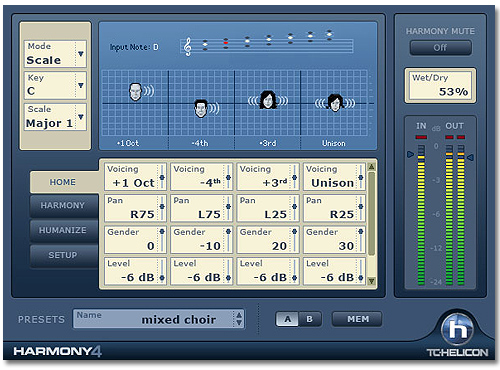 With TC-Helicon's Harmony4 plug-in, producers, engineers and songwriters can fatten existing harmony tracks, add new 1- to 4-part harmonies after the singer has left the studio.
Main Features:
* Creates convincing virtual harmony tracks from a single vocal
* Latest generation harmony technology with robust input pitch detection and smooth harmony sound
* Produces rich vocal harmony and memorable special effects
* Individual voice control of humanization features and more
* Harmony voices can sound like clones of the lead singer or 4 different singers
Harmony4 will be available March 2006 for PowerCore at EUR 599, and for Pro Tools|HD at EUR 799 retail.