Numark announced the new MP102 and the MP302 rackmount CD players. Designed expressly for mobile DJs and club owners in search of a compact, rackmountable solution to a wide variety of music playback requirements, the new MP102 and MP302 play both standard CD audio and MP3 CDs, provides buffered Anti Shock memory protection, delivers seamless looping, pitch control with a pitch bend wheel, balanced and unbalanced outputs, plus a digital output among its wealth of features.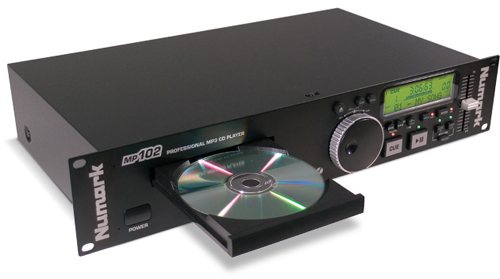 With the ability to play both standard audio CDs and MP3 CDs, the new MP102 provides outstanding versatility. With support for the MP3 media format, DJs can now fit substantially more music onto a single CD; dramatically reducing the volume/weight of the music library they transport—making their work easier. The MP102 also features buffered Anti-Shock memory protection to ensure the music plays exactly as it should, even when the dance floor is packed. And DJs will appreciate the ability to create seamless loops—for both CD audio and MP3 files as well as true buffered instant start and stutter start capability with settable stutter points.
The unit features a large, easy-to-read, backlit LCD that includes text display for identifying song names, BPM counters, and other pertinent information. The user-friendly MP102 also provides ± 8/16% pitch bend capability via its pitch bend/jog wheel. For programming music sets, the MP102 supports true continuous playback and is also track sequence programmable. With support for both folders and ID3 tags, locating and identifying tracks is easy. This unit also provides balanced and unbalanced output capability, plus a digital output for interfacing with external digital equipment.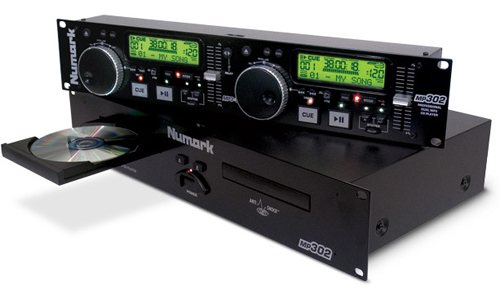 The MP302 is the double CD version, but has the same features as the MP102.
The MP102 rackmountable CD player is will be available Q2 of 2006 with a suggested retail price of $399 (Euro 330). With a suggested retail price of $699 (Euro 575), Numark's new MP302 rackmountable CD player is an exciting tool for DJs who demand portability and MP3 file compatibility. The MP302 will be available Q1 of 2006. For more information please visit the Numark website