miniTERA offers a radically simplified approach to sound design. You do not need to dig into the secrets of traditional preset programming to change a sound in a musical meaningful way.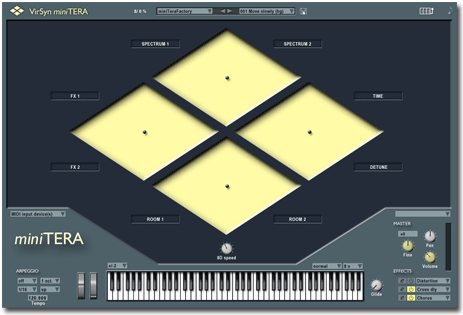 miniTera features:
* Multi-synthesis engine compatible to TERA 3 presets.
* Unique 8D meta sound parameter.
* "Slot machine" for usable random generated sounds.
* Arpeggiator.
* FX section (Distortion / Delay / Chorus / Flanger / Phaser).
* Available as download product for a limited time.
miniTERA costs €89 and is available for Windows XP and Mac OS X in VST, AU, RTAS and stand-alone formats. Demo versions are available at the VirSyn website.
If you already own TERA 3 you will get miniTERA for free. CUBE 2 and CANTOR owners can purchase miniTERA for the reduced price of €59.