By announcing the alpha compressor elysia introduces its debut product, a high end tool designed for mastering and sophisticated recording applications.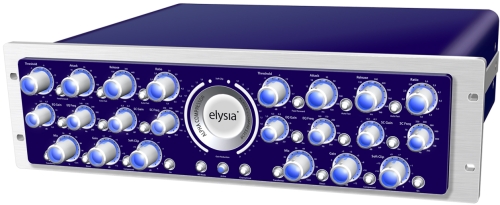 Its switchable MS matrix enables the separate processing of middle and side signals. The control mode and entire sound character can easily be adapted to the source material by employing adjustable sidechain and audio filters.
Original and compressed signals can be crossfaded by using a mix stage which provides onboard parallel compression. Additional Soft-Clip limiters can be utilized to protect following AD converters from clipping. All these functions are switchable via relays individually and can be combined with each other flexibly.
The alpha compressor's design is based on 100 percent discrete analog technology. The entire signal processing is realized with single transistors in permanent Class-A mode, and even sidechain and power supply are composed of fully discrete circuits. Oversized power supplies, incremental and capsuled conductive plastic potentiometers with detents, internal heating elements for critical components as well as four high-quality torodial transformers are part of the technical finesse.
The combination of these elements aims at the maximum of reachable signal quality and guarantees clean and powerful sound characteristics even when extreme settings are used.
For the first time, the alpha compressor will be presented in Frankfurt/Main at this year's Musikmesse at Hall 5.1 Booth D64