This is another stunning synthesizer by H.G. Fortune. Basically scheduled as successor to Swamp this one has turned out to be a real Beast in terms of sound.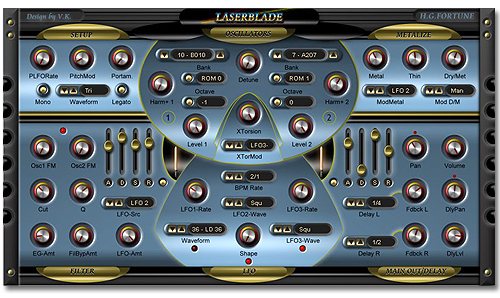 This synthesizer was started as successor to Swamp and is comprising features beyond that one. Most prevailing are modulatable XTorsion, Filter FM (frequeny modulation of filter like in the Sequential synths) and the Metallize section.
Specifications:
# two digital PCM-wave oscillators powered by 170 different waveforms
# each oscillators with Harm+ knob for enhancing the upper harmonic structure
# XTorsion with selectable modulation source
# one filter (24db Lowpass w. resonance)
# Filter-FM feedable from both oscillators seperately
# two ADSR-style envelope generators
# three LFO (one bpm-synced; one with 42 patternstyle waves, one with shapeable waves)
# Metallize section for more metallic timbres incl. two modulations
# bpm-synced Stereo-Delay
The LaserBlade will cost 25 Euro. For more information please visit the HG Fortune website.