In the latests craze around the Ipod, Phonic follows the steps of Numark and releases the MixPod. According to Phonic: The all new Phonic MixPod gives every Disc Jockey what they require: a way to stream their iPods music directly into a quality, no-hassle 2-channel DJ mixer.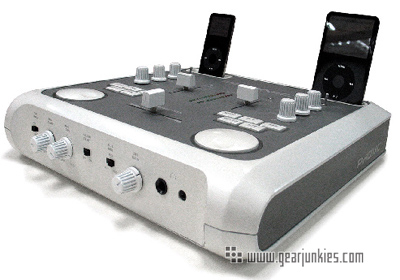 The MixPod's features a single iPod cradle on each input channel, allowing for real-time streaming of audio to the corresponding channel. Also featured are the typical RIAA-standard Phono and Line inputs one would expect to find, as well as RCA outputs for the main speakers and recording devices. Your iPod never need leave the MixPod, as users are able to update their podcasts or upload new songs to their iPods through the built-in USB jacks while it is still in the DJ Mixer's cradle. The MixPod goes a little further, however, and offers complete video and picture reproduction from the iPod to a television set through the simple video out jack. All-in-all, the MixPod is without a doubt the most useful tool any serious – or amateur – DJ could pick up this year.
Features:
# Two universal iPod docking stations
# Control the iPod through the MixPod's stylish controls
# Auto-squelch talk over function and dedicated microphone input with tone level control
# Phono/line inputs for additional devices
# USB 2.0 connectivity (PC and Mac) enables iPod DJ Mixer to function as a music-loading base
Pricing: $199,99 (Euro 170).