THE KORE COUNTDOWN begins today – Native Instruments is revealing new KORE details every week, towards the MusikMesse 2006 (from March 29th – April 1st in Frankfurt) where in full detail Kore will be released to the world. After having previewed KORE at the NAMM show 2006 at the end of January, the time has come to take a closer look at this ground breaking concept and ideal fusion of hardware and software.

For the next five weeks KORE's five central aspects will be presented in detail. Every Wednesday one aspect will be featured in depth on the website, culminating in the sixth week when full information and technical specifications will also be published.
Chapter ONE: One Interface for Everything
KORE brings order to the overwhelming amount of software instruments, effects, presets and varying operating concepts. KORE's uniform interface injects musical creativity into your work processes, making music production easier, faster and more intuitive than ever before
All of your VST and Audio Units instruments and effects can be loaded into the KORE software. These are then presented in a clearly structured, uniform software and hardware interface. The graphical layout of the control elements in the software corresponds exactly to the layout of the KORE hardware controller.
Finding, loading and managing presets as well as editing any sound's parameters all takes place within KORE itself. KORE delivers a clear overview of your work space and maximum usability.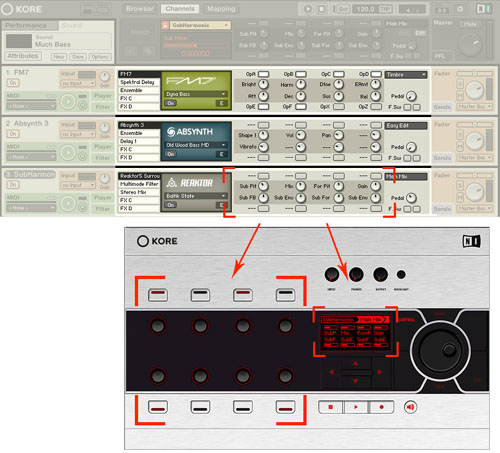 Read the full chapter on the NI website.
Next week Chapter 2: Focus on KoreSound, the brand new sound format that is universally compatible and shifts the focus away from individual instruments and toward the sound itself.