Dangerous Music today announced that their two new products, the Dangerous Monitor ST and the Dangerous Monitor SR are shipping.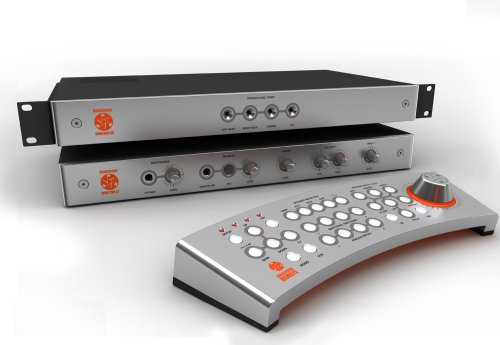 The products focus on solving monitoring problems associated with DAW-based recording and mixing in studio environments not employing a traditional console. The Monitor ST is a remote-control based input source and speaker switcher with integrated cue and talkback systems, including an onboard headphone power amplifier- all in one rack space. The Monitor SR is a companion one-rack space expansion module providing full 5.1 surround monitoring capability.
Studios working in stereo can start with the ST and later expand to surround by adding the SR unit with no equipment redundancy or obsolescence. With the cat-5 connected remote control unit, included with the Monitor ST, engineers can configure and control an entire system from the comfort of the studio's sweet spot.
"We designed and built the new Monitor ST and SR to solve specific needs of DAW users," said Bob Muller, Dangerous Music's Founder and Co-owner. "The hybrid DAW and analog studio is where it's at. Integrating the digital and analog sides in a fluid and seamless way
that sounds great but doesn't step on one's particular workflow is our mission." Dangerous Music Electronics Designer and Co-owner, Chris Muth, added, "I wanted to make the Monitor ST and SR bulletproof. These types of boxes can have so many adjustments it's easy to set them wrong. I designed our Monitor ST–SR to be complicated on the inside and simple on the outside, so you can easily set it up correctly."
Muth continued, "Our products are supposed to disappear and become part of your system. I think the best equipment is the kind you don't have to deal with when making music. It doesn't get in the way of making a piece of art. Just like a good set of paint brushes."
Dangerous Music products are made for professionals, but can be used by everyone to make music without the risk of injury.
MSRP prices are: Dangerous Monitor ST $2199 US; and Dangerous Monitor SR expander $1499.