RME will introduce the little brother of its Fireface 800 – a device that has revolutionized the world of FireWire audio interfaces.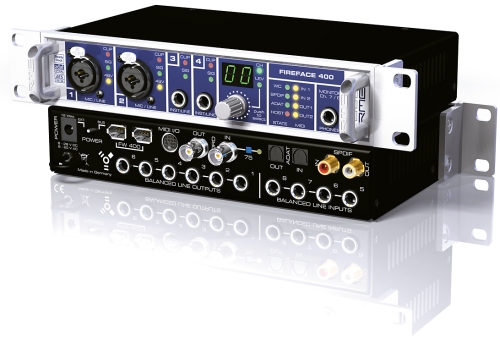 Rather than simply being a compact version of its illustrious relative, the portable, fiery little Fireface 400 is a newly designed product whose flexibility, functionality and performance sets it apart from ther devices. With a unique feature set and unparalleled capability, the Fireface 400 sets new standards among 19-inch half-rack products in much the same way as its bigger brother has in the full 19-inch category.
With RME's extensive FireWire performance and analog/digital circuitry expertise invested in its design the Fireface 400 is the only device in its category to offer active jitter suppression, stand-alone MIDI functionality, direct device operation, professional quality I/Os, and an unsurpassed 648-channel matrix router! And, everything is operational up to 192 kHz!
RME's recording interface technology is renowned for some distinguishing characteristics and features. Included in the Fireface 400:
– Support for up to 192 kHz
– Two digitally controlled high-quality mic preamps
– Two balanced universal line/instrument inputs
– SteadyClock for maximum jitter suppression and clock refresh
– Simple stand-alone operation via display and rotary encoders
– TotalMix: 648-channel mixer with 42 bit internal resolution
– 54 level meters displaying peak and RMS, calculated in hardware
– Full mobility with reliable bus power support
– Fully identical feature set on Windows and Mac
Thanks to the DSP-based TotalMix mixers, all 18 input and playback channels can be routed and mixed to any of the 18 physical outputs. This makes the Fireface 400 an indispensable tool for monitoring, with up to 9 completely independent stereo sub-mixes possible. Copy/paste of routings, fader grouping and the unique matrix window represent just some of the other outstanding features. All mix functions can be remotely controlled via MIDI using any Mackie-compatible controller.
The 8 channels from the ADAT optical I/O can be used simultaneously with the analog channels. The coaxial SPDIF I/O is fully AES/EBU compatible (as always with RME) and can operate up to 192 kHz. The optical SPDIF, alternatively provided via the ADAT I/O, also operates up to 192kHz. Rounding off the Fireface 400's feature set is a word clock in- and output (BNC), plus two low jitter, high-speed MIDI in/outs (using 5-pin DINs), culminating in a versatile, user-friendly product of the highest quality.
Available during May, the Fireface 400 will retail at a price below € 900,-