Line 6, creators of digital modeling guitars, basses, and amps, announced today they will be giving away a free ReFill each month to users of Propellerhead Reason music production software.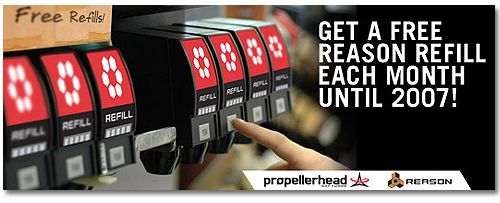 ReFills provide a turnkey approach to one-step loading of customizable instruments, samples, synths, drum loops, and effect setups. "We're thrilled to provide users with the ability to freely expand and extend the instruments and sound libraries available to them within Reason," said Erik Tarkiainen, director of market development, Line 6. "This promotion provides an opportunity to introduce musicians to the world class sound designers that are continually developing products for the Reason community."
Distributed in the US by Line 6, Reason is an enormously popular software title for both Windows and Mac OS that emulates the functionality of various recording studio equipment. By leveraging the power of modern computers, Reason provides a virtual music production studio in software, including electronic synthesizers, samplers, drum machines and mixing equipment.
With Reason, a musician can compose and produce music in much the same fashion as working in a recording studio, but at much less cost without the need for a specialized physical space and lots of hardware.
For more information please visit the Line6 website.