FREEDOM enters a totally new dimension for the entire mastering and post production of your songs, scores and sound recordings.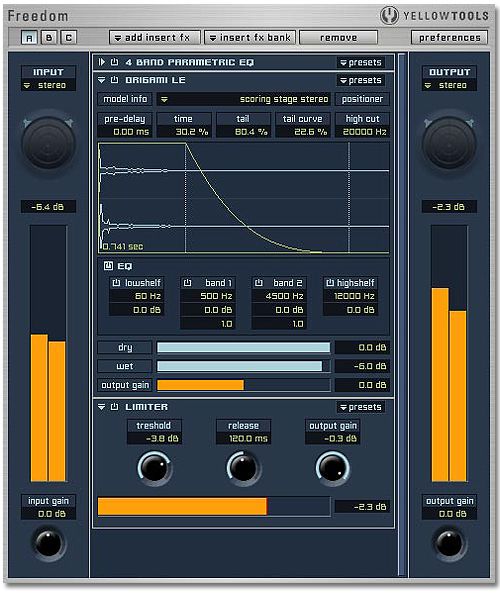 The extremely intuitive and easy-to-use rack functionality gives you immediate access to over 40 premium filters and effects, including yellow tools' sophisticated Impulse Response processor "Origami LE" with 25 IR models from the company "INSPIRED ACOUSTICS" and an audio import option. FREEDOM offers three independent snapshot slots. You can add an unlimited number of insert effects to each slot and easily change their order per drag'n'drop. For a most intuitive workflow, the order of your insert effects in the rack correspon! ds exactly to the progression of your audio input signal.
Price of Freedom is set at 399 Euro for the producer edition.
If you want to use FREEDOM's premium filters and effects in a surround environment, this software extension is all you'll ever need. This separate extension for FREEDOM supports ANY professional surround format up to "Surround 8.0" and contains special features for multi channels, filters and effects.
Price of the 'surround' extension is 499 Euro.