The Sound Guy has announced the release of SFX Machine Pro 1.0, an audio multi-effects plug-in for Mac and Windows. SFX Machine Pro is the latest and most advanced entry in the award-winning SFX Machine family. It comes with over 300 effects, including more than 50 new effects. In addition, a modular Preset Editor allows users to create their own effects from scratch.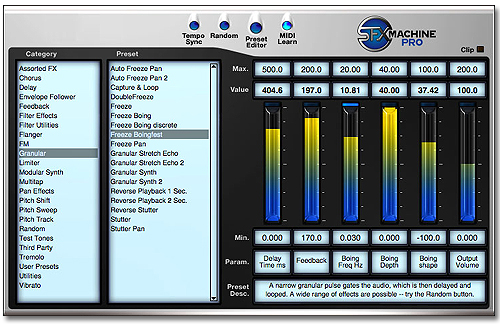 "Ease of use has always been a top priority," said Earl Vickers, CEO of The Sound Guy Inc. "At the same time, we wanted to give our power users access to the underlying modular synthesis engine, a rich environment full of strange feedback loops, where anything can modulate anything else or die trying."
The plug-in provides Tempo Sync, which matches LFO frequencies and delay times to the host sequencer's tempo, and it includes an output limiter, a new interface, and twice as much delay memory as SFX Machine RT. Automated parameter control is possible via a simple "MIDI Learn" interface, and a Randomize button allows quick experimentation.
Streamlined for use in audio production environments, SFX Machine has been used to do sound design for radio production, TV shows, feature films, CDs and video games. While SFX Machine Pro has an extensive collection of effects, from the conventional to the bizarre, it also serves in everyday use as a "swiss army knife" of audio utilities.
SFX Machine Pro 1.0 is available in VST and Audio Unit formats for Mac OS X, and VST format for Windows.