Crysonic today announced the release and availability of SPECTRA Q VST plug-in for PC windows host applications. SPECTRA Q provides the ability to adjust multi-octave harmonics within an intuitive multi-band environment in two modes. Additional to these feature SPECTRA Q incorporates a vintage inspired 10-band EQ, look ahead transparent loudness maximizing with smooth peak limiting (based on their upcoming crysonic SPECTRA' PHY technology) and a 4-band low-frequency phase tweaking section.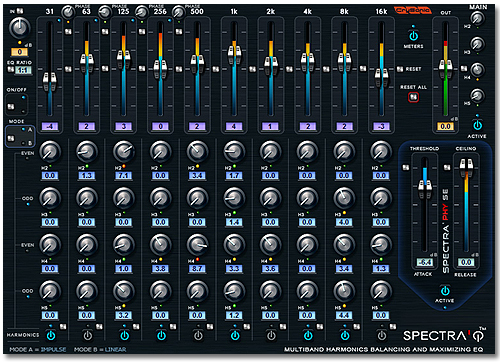 SPECTRA 'Q™ Forte is to enhance specific areas of an instrument's or any audio materials frequency range. Improving overall balance of the harmonic presentation of music, instrument or vocals contributes significantly to it's clarity and richness. Coupling this ability is the inclusion of a vintage inspired EQ, novel transparent loudness maximization with smooth peak limiting and 4-band low-frequency phase tweaking in one package.
The comprehensive feature set of SPECTRA 'Q™ is intended and designed to empower audio professionals in the field of mastering and mixing music productions achieve great commercial release quality results quickly and easily. The scope and uniqueness of SPECTRA 'Q™ opens a myriad of possible uses not only in the mastering and mixing stages alone but also during tracking, live applications, enhancing vocals, guitar, keyboard, Virtual instrument recordings, AMP simulation, exciter, enhancer, vitalizer type effects.
SPECTRA 'Q™ main features:
• Improve and fix overall balance of the harmonic presentation of music, instruments or vocals
• 10 Band Vintage Inspired EQ
• 10 Band Multi-Octave Harmonics Adjustment
• Transparent Look-Ahead loudness maximization with smooth peak limiting (SPECTRA' PHY™ tech.)
• 4 Band Low Frequency Phase Adjustment
• Linear or Impulse Harmonics modes
• EQ amount controllable by ratio
• All sections can be used separately
• Full automation for all parameters via the host
• Custom Presets
• Unique and Intuitive RMS Meters
• A/B Different modes
• Can also be used as an advanced Exciter, unique AMP simulator, Vintage EQ
• 64-bit internal precision
• and much more