Focusrite brings its FireWire Saffire power to the masses with the new, even more affordable LE.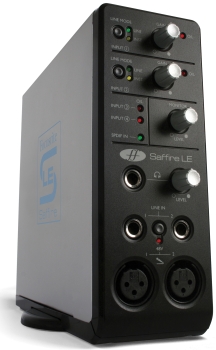 Housed within a sleek Black and Silver casing and mirroring the original Saffire's desktop design, Saffire LE enables Focusrite to deliver class-leading professional audio and conversion performance to a far wider audience than ever before.
Six inputs and eight outputs (including stereo digital I/O) with comprehensive monitoring and I/O control options ensure the recording musician has all that's needed to navigate through a modern recording session. Focusrite build and sound quality, intelligent front-end design and a one-click GUI solution combine to guarantee an intuitive and trouble-free professional recording experience.
Whilst Saffire LE lacks the onboard DSP of the original Saffire, it comes bundled with the same acclaimed Compression, Reverb, Amp modeling and EQ VST/AU plug-ins, available as a suite for use within the recording platform. (These premium plug-ins have been described by numerous reviewers as equal in quality to stand-alone plug-ins costing well in excess of Saffire LE in its entirety.) With both template and advanced modes for EQ and Compression, as well as 'save' and 'paste' functionality for all four, they're easy to use too. Furthermore, Saffire LE comes bundled with host of other software titles, including FXspansion's BFD ultralite and a demo version of GURU, Novation's classic B-Station soft synth and perhaps most notably, Ableton Live 5 Lite, a Focusrite edition of the award-winning performance and sequencing software. It also comes with 470 megs of royalty-free loops and samples, compiled exclusively for Focusrite, by Loopmasters.
As with the original Saffire, input and output levels and latency-free monitoring solutions, can all be controlled via the accompanying SaffireControl LE software. This stylish application floats comfortably over any recording software, and can shrink in size to suit a number of different recording scenarios. Also provided are one-click solutions to switch between tracking and soundcard setups, as well as switches for selecting MIDI thru and AC3 Thru, which allows an AC3 or DTS signal to be transmitted using the S/PDIF output. Of course, the hardware also features tactile controls, including input level, phantom power switch and indicator, and independent monitor level control for the artist and engineer simultaneously.
Price and availability
Saffire LE will be shipping at the end of May, at a price of 365 euro inc VAT