Maxx Claster has announced Toxic III, the third version of the 6-operator FM synthesizer VSTi for Windows. Toxic features a hybrid synthesis engine, combining the best of FM and Subtractive synthesis.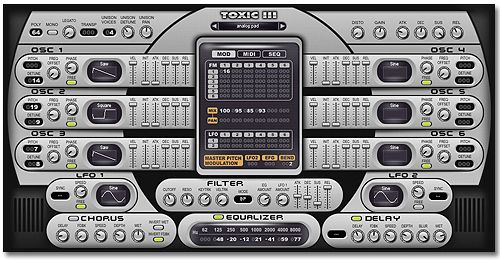 Toxic III Features:
* Hybrid FM-Subtractive synthesis engine.
* Low CPU usage with no loss of sound quality.
* 6 customizable, anti-aliasing oscillators, each providing a rich, noiseless spectrum.
* 6 ADSR Envelope Generators, one dedicated to each oscillator.
* A "warm", multimode, analog-modeled filter, featuring Low-Pass, Band-Pass, and High-Pass settings.
* A dedicated Envelope Generator tied to the filter.
* 2 free-shaped, tempo-syncable LFOs.
* FM and LFO matrix.
* Up to 64 voice polyphony.
* Up to 8 voices unison with stereo spreading.
* Support for any samplerate.
* Completely sample accurate.
* 2 comprehensive multi-effect modules, offering Flanger, Phaser, Reverb, Tape-Delay, and Chorus effects.
* 8 band, analog-modeled, parametric equalizer.
* An aggressive distortion module.
* A modern GUI design, featuring Maxx Claster's "Symmetric Interface" layout.
* 64-step sequencer, featuring Maxx Claster's "Smart-Sequencer" technology and double polyphonic capabilities.
* MIDI modulation matrix, allowing the user to route up to 10 MIDI controllers to modulate Toxic III parameters.
The current version is beta, what means Toxic III is now on testing/bugfixing stage. Maxx Claster is plannig to finish beta-testing and release version 1.0 on May 15. Estimated price is 69 Euro.