A fantastic new desktop controller with the screen and automapping technology from the award-winning SL range of Novation keyboards.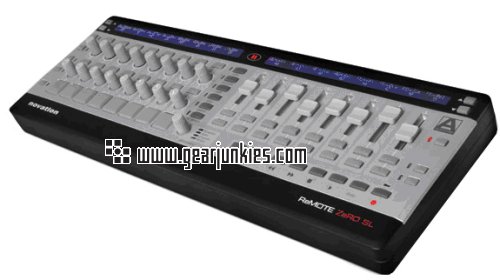 Any producer who already owns a controller keyboard or two knows that the appearance of another one on the market isn't always a welcome treat. However, Novation's ReMOTE (25/37/61) SL keyboards boast some of the most revolutionary and downright irresistible features in MIDI controlling to date, namely the giant LCD screens and the revolutionary Automap™ technology. As such, those individuals have certainly considered purchasing an additional set of keys, just to get "the jump on the future" of MIDI controlling.
Well, Novation have resolved any doubts with their latest offering. The ZeRO SL is a first for the company and a move away from an instrument or all-in-one controller keyboard towards a focussed control surface. Additionally, the removal of keys brings with it a large reduction in cost, which makes the ZeRO SL the most affordable way to experience the benefits of Novation's Automap™ technology.
In conjunction with Automap™, the ZeRO SL offers a huge amount of assignable controls, including 8 musically-responsive trigger pads. All of these are pre-programmed in 32 Manual Templates onboard the unit, so that the SL works with the most popular software instruments, whether Automapping or not. A stylish Template Editor software package is also included, allowing quick and easy construction or modification of Manual and Automap Templates, through the selection of named parameters, rather than arduously looking up MIDI data.
With all of these features combined in one compact and extremely portable device, the ReMOTE ZeRO SL is a highly desirable control surface for studio and live performances alike. Sitting at an elevated angle, the ZeRO SL fits neatly behind a querty keyboard for quick access and minimum space consumption. Whether wanting to taste the future of MIDI controlling or just acquiring a comprehensive control surface for tailoring to a specific need, the ZeRO SL is the perfect choice for anyone into music creation, from complete beginners to the consummate pro.
Price and availability
ZeRO SL is due May/June and will retail for 350 euro inc VAT