M-Audio is proud to announce the release of the new MidAir line of wireless USB MIDI controllers and interfaces including MidAir 25 and MidAir 37 controllers.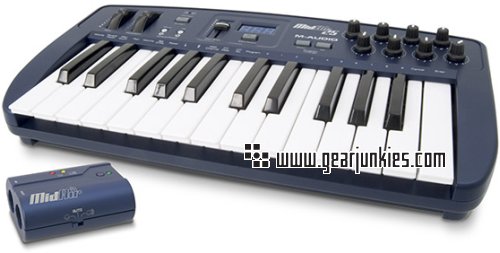 Featuring wireless technology from Frontier Design Group, MidAir products are designed to meet the needs of performers who desire more freedom of movement, as well as studio musicians who are looking to eliminate long cable runs and clutter.
Packed with many of the features that have made other M-Audio keyboards so popular, the new MidAir 25 delivers 25 velocity-sensitive keys in a totally wireless chassis. The MidAir 25 and the included MidAir receiver both 2.4 GHz wireless devices deliver an effective range of 30 feet with the same consistent, real-time response and low latency as wired controllers.
Users also get eight MIDI-assignable knobs, mod and pitch bend wheels, assignable sustain button and a pedal input. The larger MidAir 37, which includes all of the core features of the MidAir 25, ups the number of keys to 37 and adds nine assignable faders. With both the MidAir 25 and the MidAir 37, keyboard players no longer have to be anchored to a host computer or a rack of gear sitting in the backline.
Each controller ships with the MidAir receiver a 2.4GHz wireless interface that easily connects to a Mac or PC and relays MIDI data from the controller. The MidAir receiver also functions as a standard USB-MIDI interface, which allows users to work with other MIDI gear without the need for separate interfaces.
Like many other M-Audio peripherals, the MidAir receiver is a class-compliant device no drivers required.
The power of these new controllers is not limited to the world of soft synths and DAWs; the MidAir receiver can also be used without a host computer and connected directly to a standard MIDI instrument.
Complete with preset and octave +/- buttons as well as assignable physical controllers, the MidAir 25 and MidAir 37 allow users to take control of any MIDI instrument no cables required. For greater flexibility, both controllers can be powered with either the included 9V DC power adapter or with standard batteries.
M-Audio will also ship the MidAir wireless MIDI interface after the release of the controller versions of this technology.
Wireless MIDI hasn't made it into the mainstream until now, explains Adam Castillo, marketing director for M-Audio. We felt the time was right to integrate available wireless technology into our proven keyboard designs to create a product that truly speaks to the future of keyboard instruments.
The MidAir 25 and MidAir 37 give keyboard players a new level of freedom to perform wirelessly on stage; and anytime you can eliminate a cable or two in the studio, its a move in the right direction.
The MidAir 25 is currently expected to ship in June and carries an MSRP of USD $249.95.
The MidAir 37 is currently expected to ship in July and carries an MSRP of USD $299.95.
The MidAir wireless MIDI interface is currently expected to ship in August, pricing to be announced.