Strike is a revolutionary RTAS instrument plugin that makes it easy to create, control, and produce professional drum performances right from within Pro Tools with uncanny realism. One part intelligent virtual drummer, one part professional drum module, Strike features a wide range of high definition drum kits and style choices, and allows for unprecedented control over the virtual drummers performance.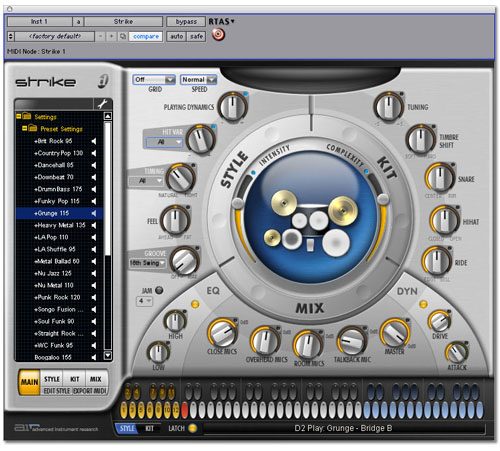 Users simply pick the kit and tell the drummer how to play, adjusting the playing intensity, complexity, timing, groove, dynamics, and much more in real time. Strike offers editable preset patterns based on real recordings and lets users create their own patterns with the onboard Style Editor (Strike also doubles as a powerful drum module). Proprietary technology eliminates the mechanized artifacts of typical sample-playback devices, while a comprehensive built-in mixer with a full palette of effects processing and multi-channel output capability provides full control over every aspect of the drum kit sound.
Strike is the answer for anyone who needs to produce professional drum tracks right from within Pro Tools. This revolutionary instrument plug-in is expected to ship around August 2, 2006.