Manytone is pleased to announce the release of ManyStation version 2, an upgrade to the company flagship synthesizer. ManyStation is Windows VSTi workstation synthesizer providing detailed and highly playable sounds. It comes with 1.5GB of sounds including multi-sampled acoustic guitars, electric guitars, bass guitars, cellos and vintage hardware synths.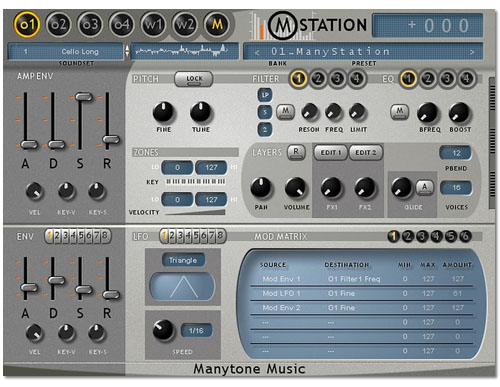 ManyStation version 2 offers significantly increased functionality, and a vastly increased sample library which is available to all Manytone VSTi customers through Manytone FreeZone.
The new functionality in ManyStation version 2 includes:
* An advanced browser which allows for soundset and preset categorization
* Data now loads two times faster
* Extra destinations have been added to the modulation matrix
* ManyStation will now load DashSND files without conversion
* Micro-tuning is supported
Pricing and availability:
ManyStation version 2 is available now. The price remains at $99.99 (Euro 76).