The V-FIRE allows the user to convert Rolands R-BUS digital audio format to FireWire (IEEE 1394), thus providing a multi-channel computer interface for Roland products equipped with R-BUS output.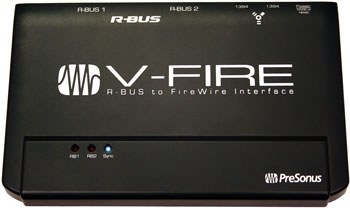 The V-FIRE features two R-BUS ports and two FireWire ports allowing sixteen channels of digital audio to stream at up to 24-bit 96K sample rate. The V-FIRE is also equipped with R-BUS 1, R-BUS 2 and master sync LED indicators.
The Windows XP and Macintosh compatible V-FIRE will also ship with a software control panel enabling the user to select the sample rate (44.1K, 48K, 88.2K, and 96K), latency, buffer size and clock source.
"We are very pleased to offer the V-FIRE to Roland's loyal customer base" says Jim Odom, President of PreSonus. "The V-FIRE is an amazing solution for file transfer and sharing between R-BUS devices and computer-based recording systems giving the customer further flexibility and power for music creation."