Applied Acoustics Systems announces today the official release of Ultra Analog Session for Mac OS X and Windows.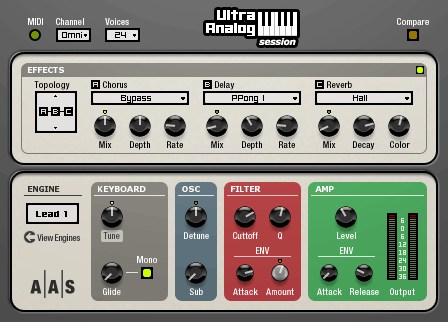 Ultra Analog Session is a versatile and expressive synthesizer based on the synthesis engine of the acclaimed Ultra Analog VA-1. Ultra Analog Session boasts a comprehensive preset library covering a wide range of the analog spectrum making it an ideal and very affordable tool for musicians looking for the best in analog sound.
"Ultra Analog Session is a very simple and straightforward synthesizer, yet the range of sound and control possibilities available from just a few key synthesis and performance parameters are very impressive," said Marc-Pierre Verge, CEO of AAS. "This new Session instrument is the perfect solution for musicians who do not need all the programming features of Ultra Analog VA-1 but still crave the quality of its analog sound."
Pricing and Availability:
The Ultra Analog Session is available now direct from the AAS web store at a price of $99 for Mac OS X and Windows systems. Ultra Analog Session runs as a standalone application and supports DXi, VST, AudioUnits, and RTAS (Mac OS only) plug-in formats. An update will be available soon to support the new Intel-based Mac systems.