Frontier Design Group is proud to announce its next product, AlphaTrack. This compact DAW control surface is designed to help you mix and edit better and faster than ever. AlphaTrack combines natural controls, like a motorized fader and transport buttons, with productive innovations, like touch sensitive encoders and its unique touch sensitive jog/shuttle strip. The result is one powerful and attractive control package that actually fits on your desktop.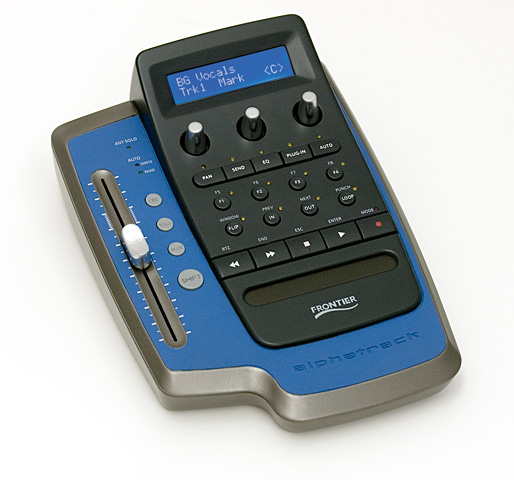 Features:
* Optimized for fast, high-quality DAW mixing and editing in a small footprint
* Intuitive, innovative, and powerful controls in an attractive package
* 100mm touch-sensitive, high-resolution (true 10-bit positions) motorized fader
* Three touch-sensitive encoders … context-specific feedback appears on the 32-character backlit display
* Innovative touch-sensitive jog and shuttle strip for fast timeline control
* 22 buttons and 21 LED's for track-specific and global functions
* Works with Pro Tools®, Sonar™, Cubase®, Reason™, Digital Performer®, Nuendo®, and other DAW software applications
* Works on Windows XP and Mac OS X computers (Mac OS 10.3.9 or later), including Intel Macs
* Footswitch input on back panel
* No external power adapter required … single USB connection and small size make it great for laptops!
AlphaTrack will be available in January, with an MSRP of just US$249.